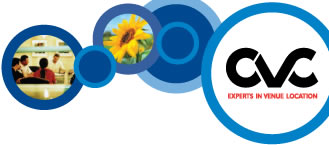 Testimonials

I have used CVC on frequent occasions during the last few years to help me locate UK venues for regional seminars and national conferences. Before that there were many occasions when I spent a lot of time identifying possible venues myself, phoning them, studying their brochures and doing comparative analysis of room size, parking, access, catering costs etc. I recommend CVC as the professional approach to save you time, money and effort.
PETER LIMBRICK: INTERCONNECTIONS
Having used CVC for a while now, I would highly recommend them to others. Their service provides me with a selection of vneues which meet our budget, location requirements and suitability which makes my life a lot easier.
CHRISTINE WHITTAKER: Team Co-ordinator MAS South East
I would have no hesitation in recommending CVC. The professionalism and attention to detail make CVC stand out from their competitors and we consider them an important resource to our company.
SHANE BALKHAM:, BATES MILLFIELD
The importance of choosing the most appropriate location for a conference cannot be overestimated; identifying the conference centre with the right location, the right size, good infrastructure and supportive personnel can often be down to chance. With the support of CVC we have been able to take some of the risk out of finding good venues for our group wide business conferences. And when things don't quite go according to plan, CVC pick up the pieces and resolve issues quickly and professionally.
THOR AUDUN SAGA: POLIMOON AS